I posted this in the Micro 9 forum here, but thought some that do not own that particular Kimber may have interest in shotshells in their other Kimber 9mm pistols.
We've discussed this here in the past, but I promised to do a test next time I was in the field with my Micro 9 and the CCI 9mm shotshells.
As I spend a lot of time in the Oregon outback/high desert with my varmint rifles shooting ground squirrels for ranchers, rattle snakes are a constant reality. After testing the shotshells in my Micro 9, I now feel confident that any snake encounter will end in my favor....IF I see the critter in time.
Testing protocol was an angled target backer with Shoot-n-See targets mounted aboard and a tape measure laid on the ground to have the distance as accurate as possible.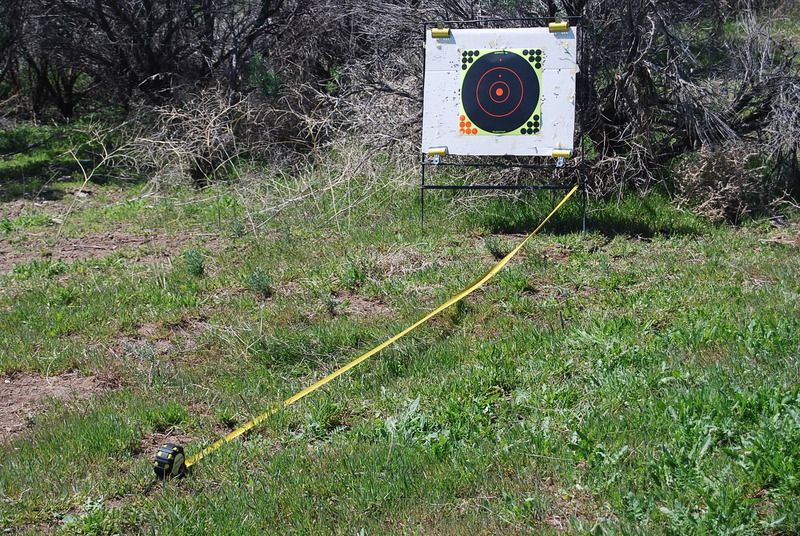 Results at what I deem the "average" range that snakes are usually encountered......4' from the pistol:
The dense pattern suggests that any snake in that zone would be moribund post haste. The results go down hill from that point on though.
Here's the results 6' from the muzzle: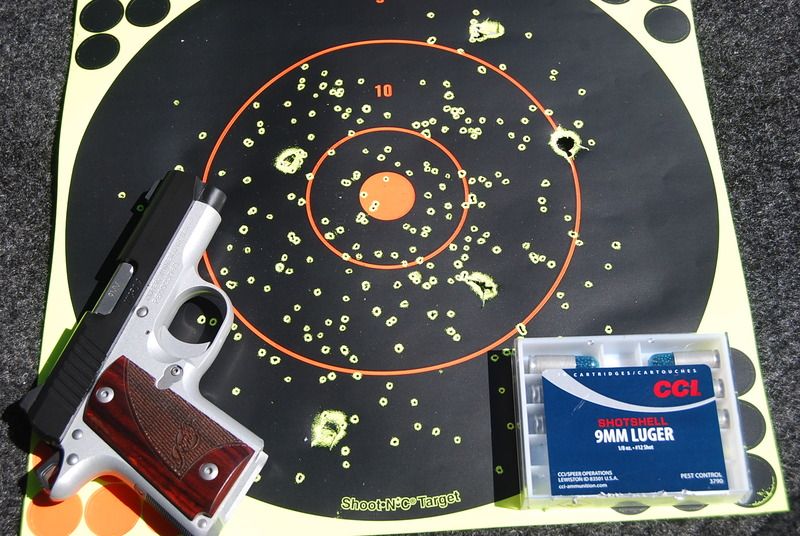 Still viable, but you can see the pattern opening at this range. By the time we get to the last test at 8', we see the pattern shooting high and opening to the point that it may not be effective for the intended purpose:
So to me at least, it appears that if you wander into snake country with a 9mm on your hip, you are well served using the CCI shot loads as long as you keep the limited effective range in mind.
The only caveat here is you cannot magazine load these shotshells due to the plastic shot capsule. It WILL NOT survive the transition from magazine to chamber, and will disintegrate when it hits the feed ramp. No worry, just drop one into the chamber from slidelock and wander about with snake-killing confidence.
Message to CCI: Please produce the 9mm shotshells the same way as your .45 ACP shotloads, as they feed from the magazine flawlessly 100% of the time in all my Kimber .45's.
I hope this informal test is of some use to others who go about their business in snake country with a 9mm as the favored weapon of choice.