I have to admit, all of the recent Solo bashing has had me scared to try another Solo.
But realizing that most of the bashers that have posted negative about their Solo have not really asked for help or answers to problems but just to vent, some go on to not post about any other thing at all, I take it for what it's worth.
My new Solo DC, first thing out of the box I noticed that while holding it in my hand it seems smaller in grip compared to my first run Solo carry, I have thicker grips and grip tape on the front and backstrap on the Solo carry which give me a better grip in hand. On the DC I like the checkering and have the same style SGM thick grips coming Monday in a black and blue for the DC. The finish is good, we will see how it holds up in the future.
The mag release seemed a bit tight so a drop of oil cured that, I lubed the slide without removing it and loaded up.
• 21 rounds Am eagle 124 grain ball, No problems
• 7 rounds Winchester premium 147 grain JHP, No problems
• 14 rounds Federal 135 grain low recoil defense JHP, No problems
• 14 rounds Magtech 115 grain ball, no problems with gun but one strange nosedive in the mag (one of the fugly extended mags) everything else was fine.
Speaking of mags the extended mag is much better to me with the black plastic thing off. I am going to grind off the mag base plate so it is smooth with the mag and then coat it in liquid black rubber and see how I like it for spare mags.
Today I shot for function and not accuracy as my range is still under snow.
Happy to say I might have another Kimber winner on my hands, I am not sure why I have such good luck, but this is my 7th Kmber and all are good shooters. so to all the guys that seem to have problems, WORK it out, get Kimbers service to fix your problems or get rid of them and move on.
More to come as I continue to test toward carry, I have a vest by Concealed Carry Outfitters which has holsters built into each side, to carry both Solos.
On the deck.
Solo DC
Compared to a Sig P938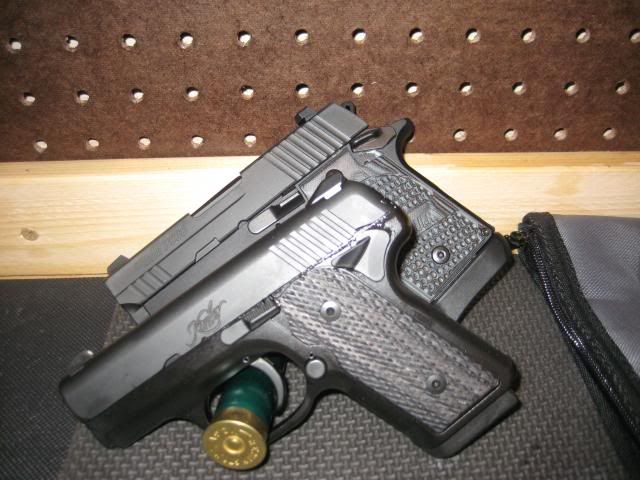 Range snowed under.
Three Amigo's
Found the new grips in the mailbox today.....looking at them real time they are more black than blue, it gives a better grip in the hand as they are thicker than the OEM ones.